Een badkamer is een plek waar je helemaal tot rust komt. Even een momentje voor jezelf, me time! Na een lange, drukke dag lekker genieten van een warme douche of bad. Natuurlijk is dat alleen maar leuker in een mooi gestylde badkamer. Met onze handige tips tover jij jouw badkamer binnen no-time om in dé badkamer waar je altijd al van droomde.
Ben je benieuwd naar onze tips voor een stijlvolle badkamer? Lees dan snel verder!
1. Geef je badkamer een kleurtje
Een andere kleurtje op de muren zorgt voor een hele andere look. Erg voor de hand liggend misschien maar… het werkt echt! Wil je het rustig houden? Ga dan voor aardetinten zoals beige. Vind je dat te saai? Kies dan voor een lichtblauwe tint. De lichtblauwe tint zorg voor een frisse uitstraling.
Bron: mincio.nl 
2. Zet verse bloemen neer
Bloemen en planten geven sfeer in je huis. Of ze nou in de woonkamer staan of in de badkamer een mooie plant is altijd goed. Plaats bijvoorbeeld een lavendelplant in je badkamer. Dit oogt niet alleen mooi maar, ruikt ook nog eens super lekker. Een echte win-win situatie dus!
Bron: dykeanddean.com
3.Zorg voor een stijlvolle badkamer afzuiging
Grote buizen en opvallende apparaten in de badkamer zijn niet mooi. Zorg dat je het op een nette manier je badkamer afzuiging wegwerkt óf ga voor bijvoorbeeld een stijlvol kleurtje als goud.  Het geeft je badkamer een rustigere sfeer.
Bron: domino.com
4. Ga voor gouden kranen
Gouden kranen, douche koppen,  alles wat er maar te bedenken valt voor in de badkamer is er in het goud. Dit is dan ook dé trend in badkamer land. Vervang je oude kraan voor een gouden en je bent up-to-date. Tip! Voeg nog meer gouden accessoires toe, zo wordt jouw badkamer één geheel.


Bron: laceandlocks.com
5. Zet een lekkere geurkaars neer
Kaarsen zijn de perfecte accessoires om sfeer te creëren. Voeg voor een gezellige, romantische sfeer kaarsen en geurkaarsen toe. Kijk naar het kleuren thema in je badkamer en pas daar de kaarsen op aan, zo blijft je badkamer  één geheel.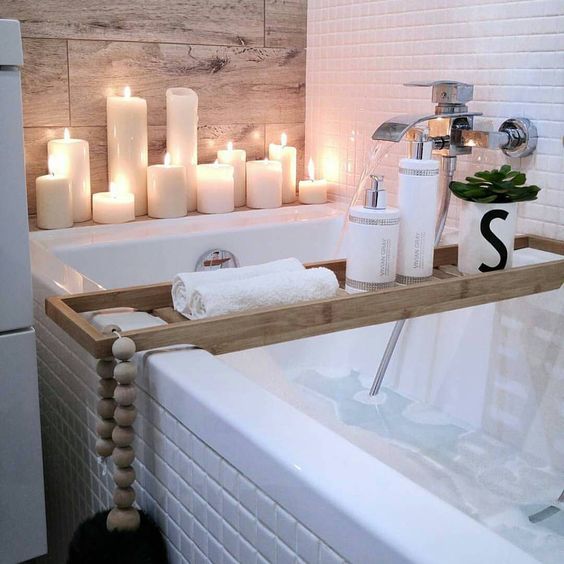 Bron: .midliferambler.com