Jaaaaaa op dit moment is Style My Day's Lonneke heeeerlijk aan het genieten van een welverdiende vakantie in Thailand! Uiteraard delen wij alle vakantiekiekjes met jullie zodat jullie niets missen van deze mega bijzondere reis! Scroll snel verder voor alle prachtige foto's!
Look who's staring at me:) # How cool?! # Beautiful! # Jaja! Daar sta Ik dan… Op de beroemde "bridge on the River Kwai" Nogal indrukwekkend moet ik zeggen!
Kijk.. zo kun je dus ook overnachten.. In een "floating hotel" op de River Kwai! Voor mij een ervaring, maar voor de jongens helemaal! # Ok.. Met 1 teen durfde ik nog net in het water want na 1 seconde hingen er heeeel veel kleine EN grote vissen aan.. Maar mijn mannen zijn dus wel stoer en gingen gewoon zwemmen.. Die vissen aan hun lijf.. kregen ze er gratis bij! Prachtig is het zeker hier bij de Erawan watervallen # Kiekeboe op de River Kwai! # Tijd voor een Thais hapje! Zelfs langs de weg is het eten hier fantastisch! Oma maakt de spicy saus, moeders roert in de pannen en dochters serveren uit! Oja… en zoon rekent af! 🙂 Wij blijven hier!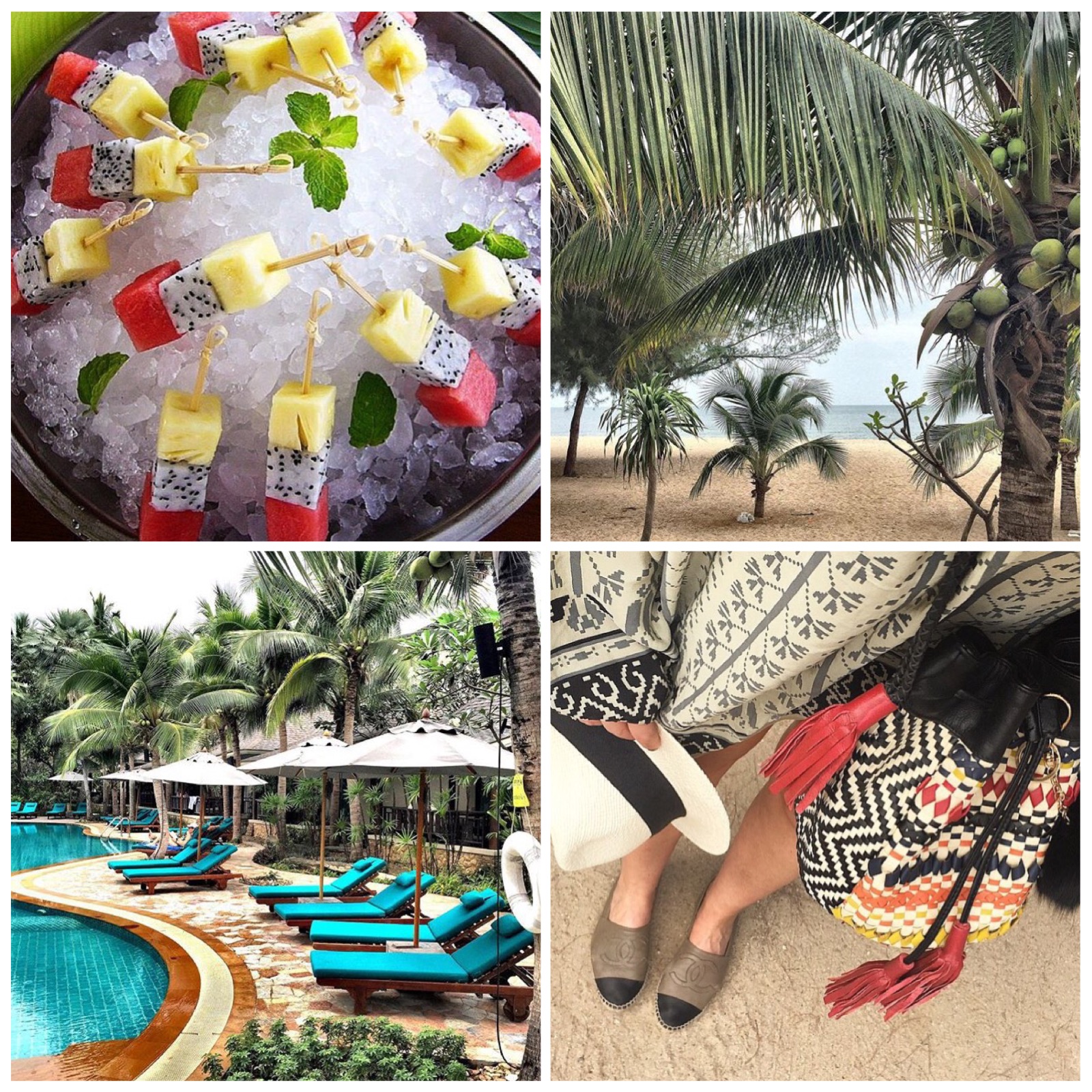 Mmmm… # Tja…. Dit is ons uitzicht vandaag! Soort van paradijsje he? # Love it! # Beach-time!
Over 2 uurtjes beginnen wij hier in Thailand al aan het Kerstdiner! Dus… van mij voor al mijn volgers een hele dikke kus en alvast fijne Kerstdagen gewenst!! # Wishing all of you a Merry Christmas with lots of love and happiness!! # Vandaag, op eerste Kerstdag hebben we 4 uur gefietst door Hua-Hin, samen met Wesley, een mega enthousiaste Nederlandse jongen die hier woont. Hij heeft ons alle highlights EN geheime plekjes laten zien en alles wat we wilden weten over de Thaise cultuur verteld! ECHT een must-do als je hier bent!! Hij heeft ook een klein strandje met een kite-surf-school dus als je daar van houdt…. moet je ook bij hem zijn! # Real monkey business!
Alleen al om het eten vind ik Thailand echt fantastisch! Om nog maar te zwijgen over de prachtige natuur en de lieve mensen! # Just arrived in paradise.. # Goodmorning! # Dreaming about what is yet to come …
Late lunch at the coolest place # This place # Chilling on the beach # No words needed