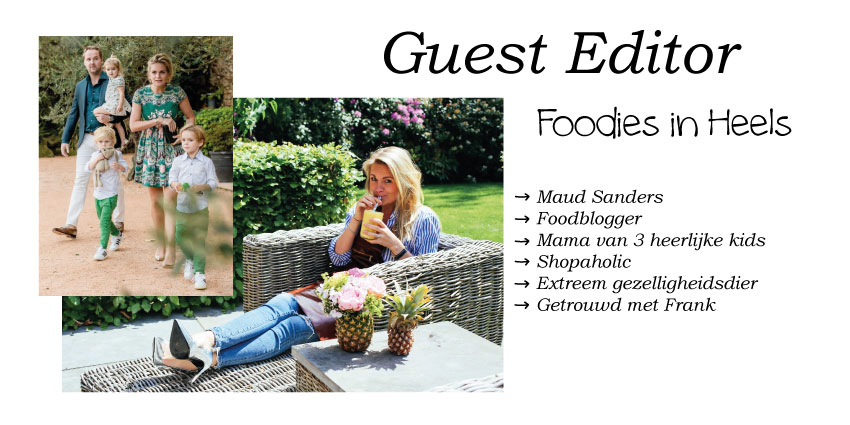 Na een periode van veel verkeerde food-keuzes en tja ook wat drankjes hier en daar was ik op zoek naar een super gezonde salade om weer wat beter voor mijn lijf te zorgen.
Ik kwam een raw-food salad tegen op een Amerikaans food blog en dat was de inspiratie voor mijn versie van deze super gezonde, maar (hoe fijn) vooral ook super lekkere salade! Vooral de crunch die de salade een extra touch geeft maakt het gerecht ook zo gezond. Pompoenpitten en zonnebloempitten zijn echte superfoods, barstensvol vitamines en mineralen. Dit geldt ook voor de kurkuma waar de pitten in zijn geroosterd, dit wordt ook wel de "helende, magische wortel" genoemd. Do I need to say more? Voor m'n vent en kids heb ik er een stukje vlees bij geserveerd, maar ik was blij met alleen deze gezonde salade! Hij staat hier inmiddels regelmatig op tafel.
Salade
halve savooikool
halve rode kool
10 spruitjes
1 broccoli
handje goji bessen
Dressing
2 eetlepels grove dijonmosterd
3 eetlepels extra vergine olijfolie
2 eetlepels goede balsamico azijn
himalayazout naar smaak
verse gemalen zwarte peper naar smaak
Crunch
4 eetlepels pompoenpitten
3 eetlepels zonnebloempitten
1 eetlepel kurkuma
himalayazout
bakpray
handje hennepzaad
Snijd de savooikool en rode kool in hele dunne repen en spoel dit af onder de kraan. De spruitjes en de broccoli ook goed wassen en daarna de spruiten in dunne plakjes snijden en de topjes van de broccoli afsnijden. Hoeft niet netjes maar je moet hier eigenlijk mini roosjes krijgen, dus niet alleen maar de kleine bolletjes aan het uiteinde van de broccoli. Doe alle groenten in een bak en voeg de gojibessen toe. Bewaar de rest van de broccoli, inclusief de steel voor een heerlijke kurkuma-broccolisoep.
Voeg alle ingrediënten van de dressing samen in een bak of in een dressing mixer en mix het goed.
Zet een braadpan op het vuur en voeg wat bakpray toe. Doe de pitten allemaal in de pan als deze heet is en blijf ze omgooien zodat ze niet aanbranden. Voeg na een halve minuut de kurkuma toe en eventueel het zout, blijf zo nog even omgooien tot de pitten mooi goudbruin zijn.
De dressing mag al meteen bij de salade. Dit kan je allemaal al eerder maken.  De crunch en het hennepzaad kun je er het beste op het allerlaatste bij doen, dan blijven ze hun knapperigheid houden.
Maaltijdsalade voor 3 personen