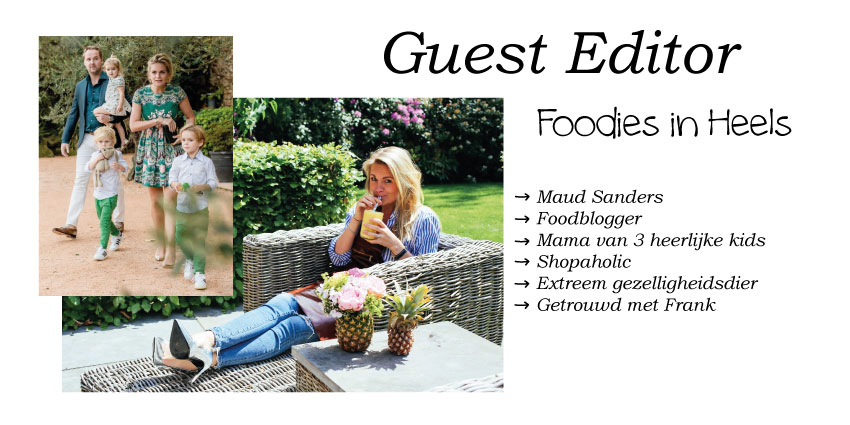 Met mijn gezin woon ik in een fijn dorp in Belgie.
We hebben hier rust en lekker veel ruimte voor de kids om voetbaltoernooitjes in de tuin te houden. Mij hoor je niet klagen! Maar er is wel een ding wat ik ontzettend mis. Want deze foodie heeft dus ook ooit wel eens geen zin om te koken of daar te weinig tijd voor. En wat ik mis is een goede bezorgdienst. Wat wij hier thuis kunnen laten komen is pizza, shoarma en frietjes: THATS IT!!!!!!! Nou dat is snackfood wat heel af en toe wel eens best nodig is op een zware zondag maar ik mis de gezonde en de echt lekkere opties. Dat zijn dus de momenten dat ik het mis om in de stad te wonen. 
Afgelopen week mocht ik met het hele leuke team van Foodora een foodtour maken door Amsterdam inclusief roze bezorgfiets.
We zijn langs enkele restaurantjes gegaan waar je in Amsterdam eten kan bestellen en waar er vervolgens een half uur later een verse maaltijd voor je neus staat. Hoe fijn is dat! Daar kan ik wel een beetje jaloers op worden. Maar goed ik mocht nu dus meemaken hoe deze food delivery service precies werkt en de hele lekkere dingen die je kunt bestellen.
Wat ook fijn is: stel je woont in Amsterdam en je kunt NIET koken of hebt er geen zin in tijdens de kerstdagen dan kun je dus bijvoorbeeld: oesters, luxe Italiaanse maaltijden en zelfs een waanzinnige red-velvet cake bestellen: jij maakt indruk op je gasten, je hoeft geen boodschappen te doen samen met de rest van de wereld en je hebt zelf een relaxte kerst in plaats van stress. En ik zag dat je zelfs bier, champagne en wijn kan laten bezorgen, als dat geen fijne feestdagen worden!!!
Foodora zit inmiddels in verschillende steden in Nederland: Amsterdam, Den Haag, Utrecht, Rotterdam, Leiden, Haarlem en sinds afgelopen week ook in Eindhoven.
Bij de Oesterbar kregen we, wat denk je? Jawel oesters, zooooo lekker! Met een Bisque d'Homard met cognacroom. Wat een feestmaal is :-))
Next stop was restaurant Mazzo, overheerlijk Italiaans hebben we hier gegeten. Bruchetta, pizza's, pasta's, visjes, kippetjes allemaal veel te lekker!!! Hoe fijn als je eens lekker romantisch thuis wilt blijven en geen zin hebt om te koken! Flesje wijn erbij, Foodora bellen en NIETS meer aan doen.
Het toetjes kregen we gepresenteerd in de prachtige Riviera Maison winkel op de van Bearlestraat. Een te lekkere red velvet cake MET vuurwerk en een chocolademouse stond hier op ons te wachten. Wauw, wat was dit lekker! De winkel was al helemaal kerst, dus wij vierde hier de kerstdagen al een beetje met z'n allen.
Voor meer foodinspiratie, volg me op Facebook, Instgram en check mijn blog: foodiesinheels.nl