Je woonkamer misschien wel de ruimte waar je de meeste tijd door brengt als je thuis bent. Erg belangrijk dus dat het interieur in je woonkamer goed bij je past en je er helemaal thuis voelt. Je moet er ten slotte kunnen relazen maar óók vrienden kunnen ontvangen. Daarom is het belangrijk om goed na te denken voor je inrichting. Om jullie een handje te helpen heb ik wat mooie interieurs bij elkaar gezocht met leuke items die jouw woonkamer compleet maken. Benieuwd naar onze sfeervolle must-haves? Scroll dan snel even verder.
Salontafel
Een stijlvolle salontafel is een toevoeging aan je interieur. Zelf ben ik op dit moment helemaal weg van de wat modernere salontafel met strakke details. Dit houdt je huis lekker netjes en opgeruimd en het ziet er gezellig en sfeervol uit. Zeker als je het combineert met een kleed is het echt een aanrader.
Bron:  Hoog Design
Fijne bank
Een bank moét natuurlijk goed zitten maar daarnaast wil je ook nog wel graag dat ie er een klein beetje leuk uitziet. De bank hieronder is stijlvol, strak en zorgt er ook voor dat iedereen een lekker ruime plaats heeft. I love it!
Bron: Bertram Beerbaum
Mooi dressoir
Een dressoir is een belangrijk item voor een fijne sfeer in je huiskamer. Zelf ben ik gek op een dressoir van Robuuste Tafels. Ze zijn stijlvol, sfeervol en geven je interieur karakter. Ik hou van de combinatie van hout en staal. Het geeft zo'n stoere look en een té gestyled interieur wil je ook weer niet! Met een dressoir met geleefd hout ga je dat tegen en krijgt je interieur de perfecte mix van stoer/chique.
Stijlvolle lamp
Ik heb een nieuwe trend gespot waar ik helemaal weg van ben en dat zijn meerdere lampen bij elkaar. Of het nou gaat om sta of hanglampen… ik vind deze trend té leuk. Zie hieronder 3 waanzinnig leuke lampen bij elkaar en je ziet wat voor cool effect dit kan geven.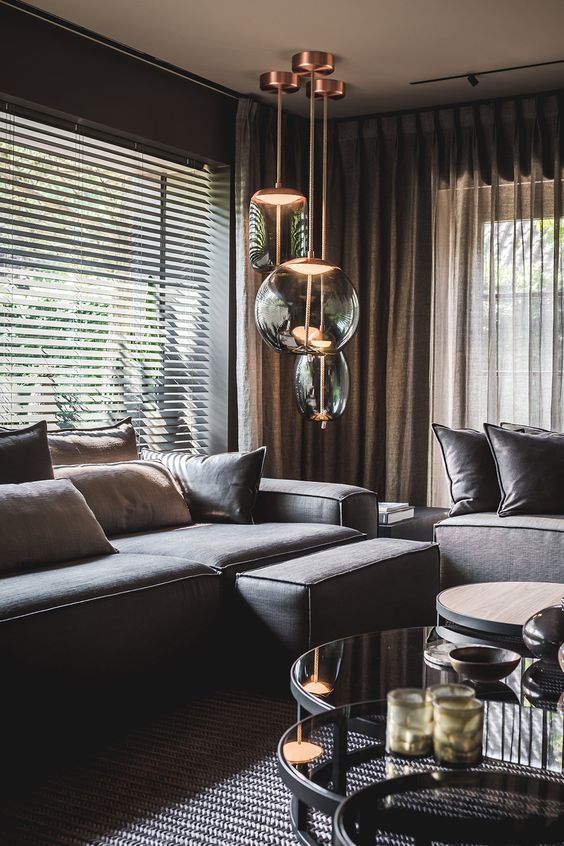 Bron:  Hoog Design
Tafel boeken