Jaaaaa! We zitten in de halve finale van het WK voetbal in Brazilië en dat gaan we Braziliaans vieren!!
Wij geven maar liefst 3 sets van deze MOLTON BROWN Caju & Lime weg!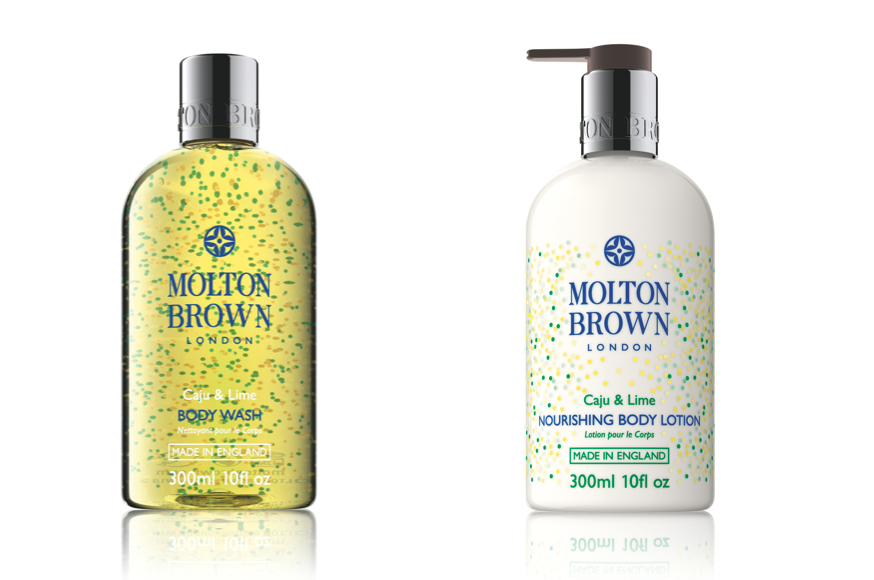 Braziliaans Carnaval In de Badkamer: 
Molton brown lanceert LIMITED EDITION CAJU & LIME-Collection 
Molton Brown, "bath and body connoisseurs since 1973" uit Londen, introduceert Caju & Lime. Deze exotische limited edition collectie bestaat uit een Body Wash, Nourishing Body Lotion en Eau de Toilette en is geïnspireerd op de friszoete Caipirinha, de fashionable cocktail met geschaafd ijs, limoenen en cachaca. Caju & lime heeft de bite, het temperament en karakter van Brazilië, het land dat dit jaar met het WK Voetbal volop in de schijnwerpers staat.
Caju & Lime is een wervelende, zomerse geur creatie met limoen als topnoot, kruizemunt in het hart en fruitakkoorden uit het Amazone-gebied. Opwindend als het carnaval in Rio en sensueel als Braziliaans voetbal. Het Caju-fruit is in deze geuropstelling de absolute vedette. Deze scoort met een hoge dosis anti-oxidanten en vitamine C en geeft lichaam en geest een stevige oppepper.
Ook de kleuren en prints zijn streetwise en sexy. De Body Wash bevat een confetti van minuscule groen gele bolletjes die de huid er fris en stralend uit laten zien en aanvoelen. In combinatie met de Nourishing Body Lotion en Eau de Toilette wordt het één groot feest in de badkamer.
The Caju & Lime Collection:
Body Wash 300ml, € 22,40
Nourishing Body Lotion 300ml, € 31,50
Voor meer info klik je HIER!
Wil jij winnen? Mail me naar Lonneke@stylemyday.nl en voorspel of we wereldkampioen worden of niet EN wat de uitslag zal zijn van de eventuele finale!