Het is weer vrijdag dus een nieuwe " look of the week" ! Omdat het weer zo rampzalig is, heb ik juist gekozen voor een kleurrijke, vrolijke combinatie.
Als je zo'n heftige print draagt, combineer je dat het beste met een rustige, stijlvolle bovenkant, of juist andersom. Dat maakt het weer wat meer in balans . de statement-heels geven er weer een stoere, vrouwelijke draai aan.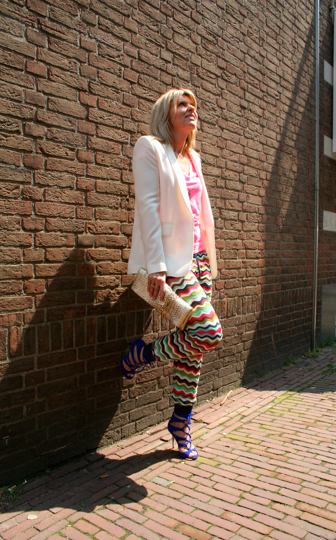 Heels: Jimmy Choo, Broek: Missoni, Blazer: IRO, T-shirt :Ilove Leon, Clutch: Jimmy Choo, Zonnebril: Stella McCartney
Vanavond partytime….! Ik vier dan mijn verjaardagsfeest…… Morgen laat ik jullie zien wat ik vanavond zal dragen!  XL
Deze look of the week is tot stand gekomen in samenwerking met www.Mayke.com  & www.bylotte.nl .