Eindelijk lieve volgers, het is weer weekend! Afgelopen week heb ik weer een hoop meegemaakt en dat ga ik in dit foto-report met jullie delen…
Samen met Janine van Prêt à Pregnant hosten ik een exclusief event voor Peter Hahn in hotel L'europe. Al mijn vriendinnen waren langs gekomen en het werd een super geslaagde middag! Deze week was ook de start van Amsterdam Fashion Week en ik word samen met 11 andere influencers gevolgd tijdens dit TE coole mode-event en jij kunt meekijken!  Dit doe je via DEZE LINK! Verder stond er weer een gloednieuwe Look Of The Week online en maakte ik een blog over interieur inspiratie. Al met al was het dus een heeeele drukke maar te gekke week! Zie hieronder wat ik allemaal nog meer gedaan heb. XL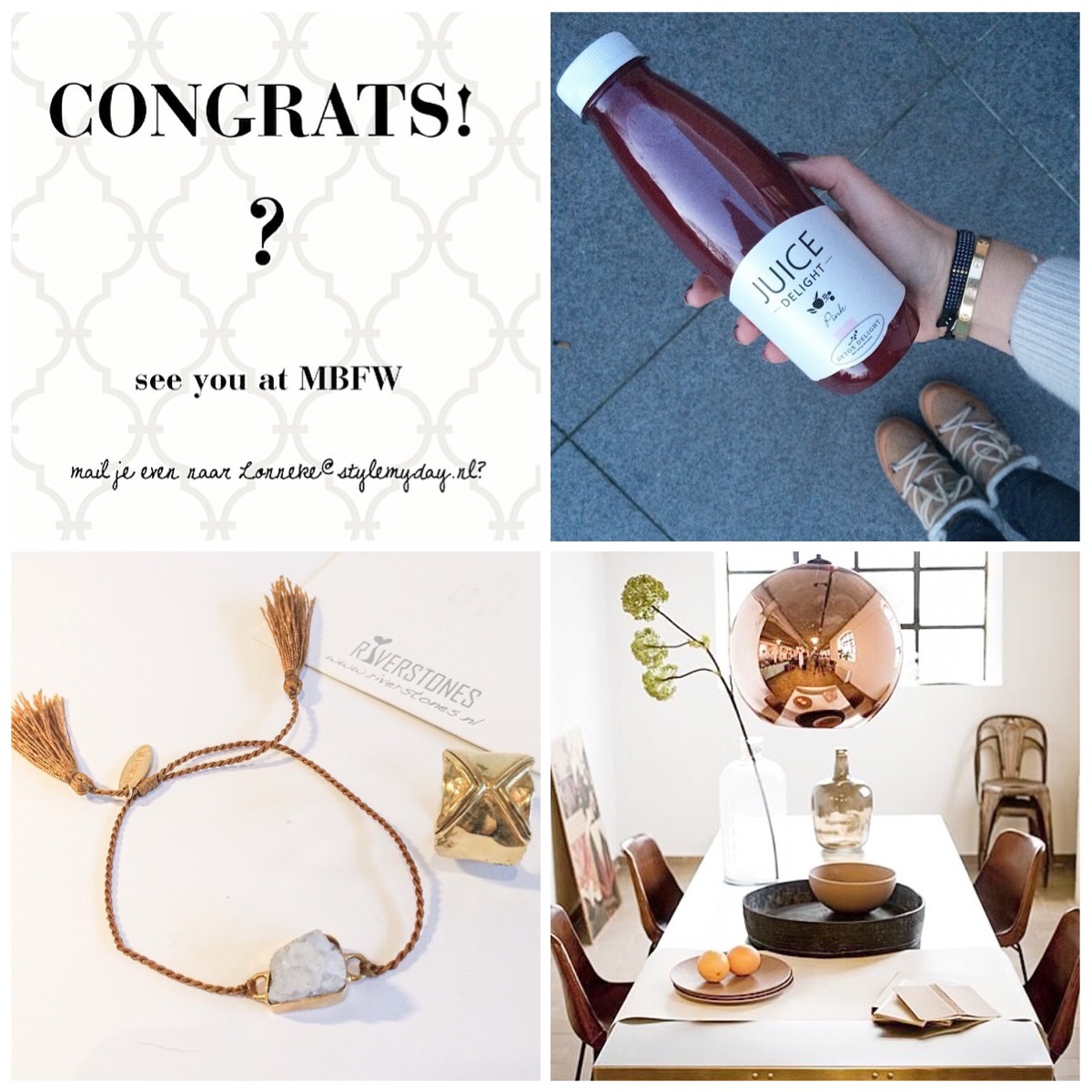 I think I'm going to make a few girls very happy right now!!! Check www.stylemyday.nl if you are a winner!!! # Yeah! I did it again! Last day of my detox-treatment from Detox Delight! And I feel sooooo goooood!! # Thanks Riverstones for the fab. bracelet & ring! Lovelovelove it! # Blog online! 15 x interior inspiration by me! Www.stylemyday.nl
Enjoying a good sunday-evening with my friends! # On my way to Amsterdam to host an exclusive event in hotel L'Europe this afternoon! # Quick lunch before we start!  # With all this beauties at the Peter Hahn exclusive event at hotel L' Europe!  
# With the always stunning Anouk Smulders at the Peter Hahn event!!  # With my dear friends! # New outfit-post on the blog! # Prepping for Fashion Week!!
Let this party started! I'm ready for Fashion Week! On my way to Cosmo Kappers to make my hair Fashion Week proof! You can follow me today!! # At Cosmo hairstyling for my Fashion-Week-Look! Whoop! # OEHH… We are getting spoiled at Marlies Dekkers! # Time for a good lunch Idock Restaurant before filming my styling-video! 
Busy filming my Styling-Video # With gorgeous fashionmoms @leontienwenneker and @caraschiffelers at Avelon show! Fashion Week has started!! # Time for diner at Mossel en Gin! Cheers with my lovely @sunny_jansen_! # Afterparty Avelon with the master himself @erikfrenken_avelon!  
Rise and shine! Ready for day 2, but first time for breakfast! # Now online editors blog about the Avelon show and afterparty! #  Time for a quick lunch before head over to Fashion Week day2!  # Mix and match and lots of colorfull prints at Lisa Konno !