Het is alweer even geleden maar eeeeindelijk staat er weer een nieuwe My Week On Instagram voor jullie klaar! Afgelopen weken heb ik het ontzettend druk gehad met hééél veel leuke events en natuurlijk met alle kerstvoorbereidingen:).  Style My Day´s Roos was in New York om écht in de kerstsferen te komen en maakte hierover 2 photo-diary's. Zoals jullie al kunnen lezen heb ik heeeele drukke, gezellige weken gehad en heb ik genoeg meegemaakt! Ga er dus lekker voor zitten en bekijk mijn uitgebreide photo-diary hieronder!
Vandaag wil ik mijn fabulous assistente Roos in het zonnetje zetten dus is ze deze week mijn IT-GIRL! Waarom? Gewoon omdat deze kanjer voor mij onmisbaar is! Daarom dus! Ik stelde @roosvanderaa 18 IT- vragen! Benieuwd? Check www.stylemyday.nl #  A teaspoon full of beauty! Drink yourself beautiful & healthy! That's what Fountain is all about! Yesterday I was at the launch from @deciemfountain in the Andaz Hotel in Amsterdam! Read all about the launch on the blog www.stylemyday.nl # Hello super cute Christmas dog from@dogsanddresses!  # Today is all about my Christmas tree!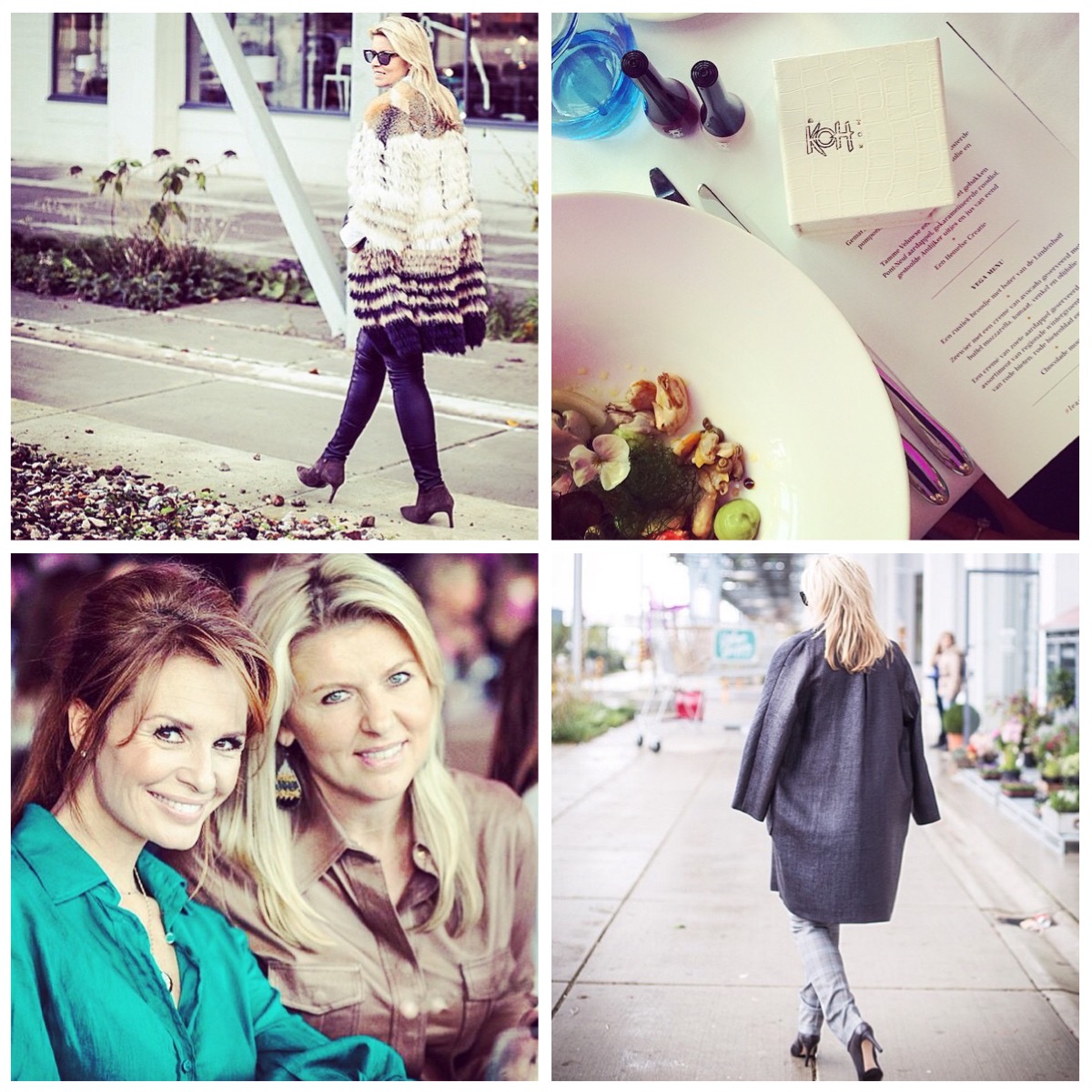 NOW on the blog! New outfitpost online! Check www.stylemyday.nl # Good start of the week with the #leadingladieslunch at the #LXRYFAIR #LXRY met @leontineborsato # #leadingladieslunch at the @mastersoflxry fair samen met @leontineborsato wearing @sally.blue leather top and nay earrings! # Today in my new outfitpost I'm wearing a total look from @spijkersenspijkers! From coat to glasses! Check the look on the blog www.stylemday.nl 
All he wants for Christmas is… I made a shopping to buy the perfect gift for him! Check www.stylemyday.nl # Editor's blog online about my favorite breakfast ritual during the week! And do you want to see me doing my yoga after breakfast?  Check www.stylemyday.nl # Enjoying a fab. presslunch from djidjiitalia! # Love presents!! Super spoiled at the @djidjiitalia lunch! 
Vandaag was ik, samen met pers en BN'ers aanwezig bij de lancering van de nieuwe collectie van @djidjiitalia! De middag werd gehost en gestyled door @bydanienl, de lokatie was prachtig, het gezelschap top, de lunch heerlijk en OOOW… Wat zijn we allemaal verwend! Kijk je mee naar een uitgebreid verslag? Www.stylemyday.nl # Do you already have your Christmas-outfit? I already shopped mine!! Do want to see and shop it?? Check www.stylemyday.nl # After my yoga-class ready for a hair-do!  # Meet my new best friend! 
You want a cup of tea? Great cookies! # New outfitpost online on the blog www.stylemyday.nl  # Editor's blog online! Christmas-shopping in New York!! See all the pics on the blog www.stylemyday.nl # Steun de Linda Foundation en koop een kerstbal@vdwarenhuizen @lindafoundation Geef gezinnen in armoede een onbezorgde kerst. 
Let it snow, let it snow, let it snow! # Wil jij deze prachtige Maison Louise haar/hoedband winnen van @keepitsecretstore? Ik mag er 3 weggeven!!!! Lees alles op www.stylemyday.nl!  # Hello Amsterdam! You are so beautiful!! # Time for some shopping!
365 days summer in your house? Always full of energy? Never a jet-lag anymore? I tested the EnergyUp light from Philips and you can see my pics and read my review now on the blog www.stylemyday.nl # Too cute to eat! Christmas cookies! # Last Christmas shopping in the rain # Style My Day's Roos is still in New York! Part II of her NY-photodiary is now online! 
Wishing you all a merry Christmas! # Enjoying another Christmas day with my family!  # Super proud of my boys! Merry Christmas everyone! # Ready for the family Christmas diner! 
When I saw you I fell in love and you smiled because you knew!  # And the party continues. It's all about the good family life # Christmas outfit wearing golden leather Sally blue top, feather Topshop jacket, Chanel bag, Giuseppe Zanotti booties and a RubenO pants # Aaahhh! Thanks Uggbenelux for the perfect winter essentials!