Hello sweet followers, er staat weer een gloednieuwe 'My Week On Instagram' online! Nadat ik ben teruggekomen van vakantie ben ik gelijk weer aan de slag gegaan. Zo ging ik een dag shooten voor mijn nieuwe looks, bezocht ik de showroom van Mart Visser en was ik aanwezig bij de TOV X Chantal Bles lancering! Daarnaast had ik een super gezellig feestje van Guest-Editor Kelly Weekers én ging ik gisteren en dagje shoppen met mijn lieve vriendin Leontine! Een drukke maar super leuke week dus! Benieuwd naar de foto's? Scroll dan snel even verder.
We are soooooo ready for the Triumph Amourette Party!! # Ice-cream anyone? # Time to order some sunny sushi before leaving to the airport! Bye Copenhagen, you're great! # Many thanks @sophiederuiter for the fab. illustration and the sweet compliment!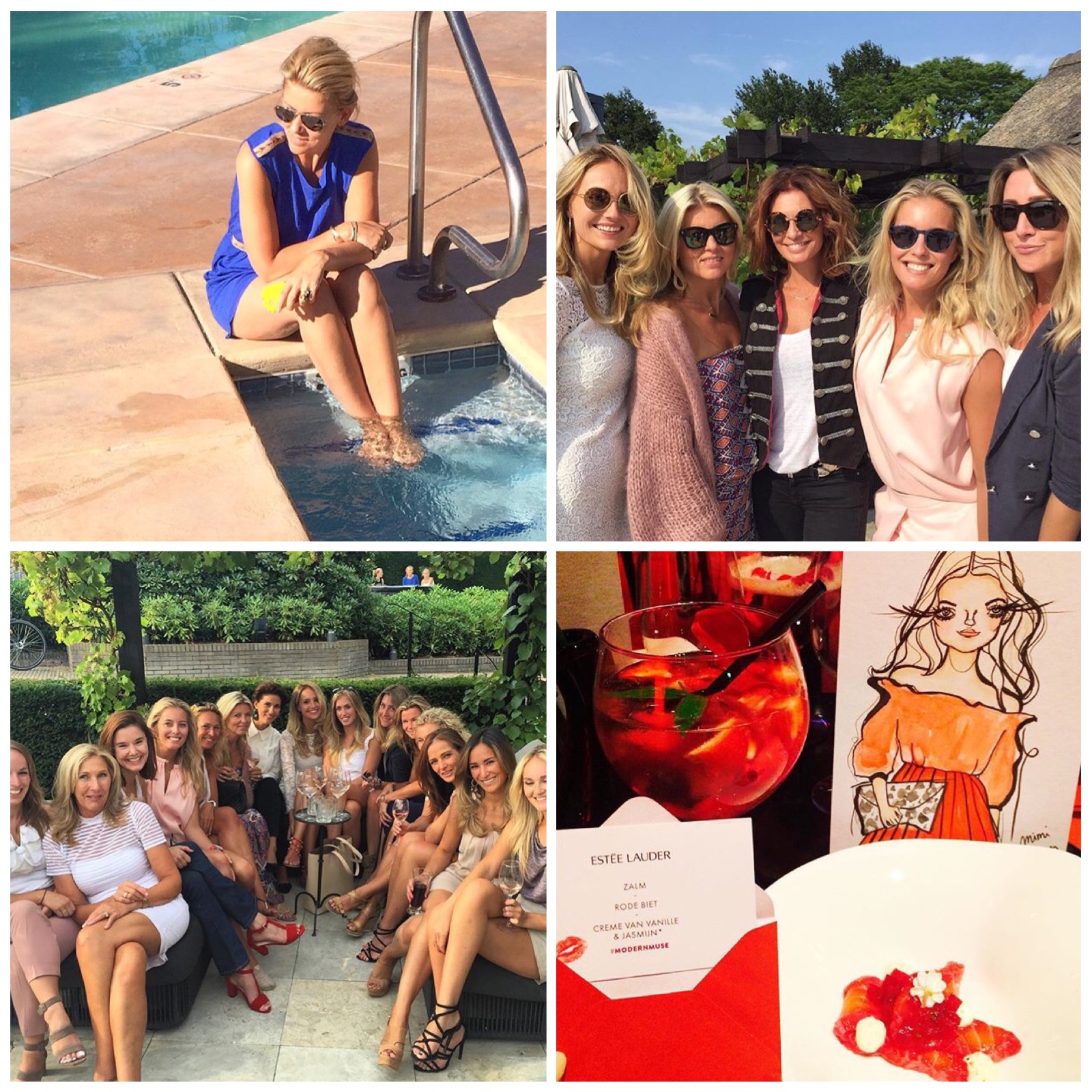 Hi there! # Vandaag ben ik in Laren om de verjaardag van lieve @kelly_weekers te vieren en we hebben t erg gezellig! @leontineborsato @mariellesmit en Danielle Wanders # En hebben het nog steeds erug gezellig!! Feestje bij @kelly_weekersmet @manouvds @jaezzbyjitte @jittemilder@joanstolk @romyweekers @mmidresses@kathelijnbr @kristinabozilovic@mariellesmit # Style My Day's Roos is op het exclusieve Estee Lauder event en heeft het -zoals je ziet- nogal fijn! Heb je de tekening die van Roos is gemaakt al gespot!?Hoe cool! En dan dat menu! Wij zijn eigenlijk wel jaloers! 
Mijn tassen zijn mijn liefdes zoals je hier ziet! Ik koester ze stuk voor stuk. Met weemoed kijk ik naar deze foto want 3 van deze tassen en mijn Chanel agenda zijn laatst gestolen tijdens FashionWeek in Amsterdam. Misschien vind je het raar maar ik mis ze echt! Weet jij meer? Mail je me? Info@stylemyday.nl # Shooooting today with @alexiavdmphotography # photo!!! # Love my Valentino sneakers
Goodmorning! # Een complete outfit voor €100,- samenstellen was de vraag! En of mij dat zou lukken? Inclusief tas, schoenen en zonnebril dan he! Iedereen in mijn omgeving moest keihard lachen! "Dat lukt jou never-ever-nooit-niet! Niet? Niet? Tuurlijk wel! Zie hier t resultaat! EN? Wat vindt je? # Afgelopen weekend vloog ik naar Kopenhagen om het 30 jarige bestaan van de Triumph Amourette collectie te vieren met een select gezelschap bloggers! Het verslag en de foto's staan nu online! # Knap knapper knapst op het Gassan Diamonds & L'officiel NL feestje! 
So beautiful! # Thanks SO much @bitsandpiecestogo for this handmade personalised hat! It's incredibly beautiful! # Dat hij de prachtigste kleding ontwerpt dat wist ik natuurlijk allang maar nu heeft Mart Visser een eigen schoenenlijn die ik vandaag mocht bewonderen, passen en kiezen! Kiezen kon ik bijna niet want eigenlijk wilde ik alles maar deze bordeauxrode beauties zijn het geworden! Zie je hoe blij ik ben? Kijk snel op www.martvisser.nl want je kunt ze daar bestellen! # Vandaag was ik ook op lancering van de tassencollectie die TOV Essentiels samen met Chantal Bles heeft ontworpen! En we hebben het weer erg gezellig!
Ok! Nog eentje dan! Samen met mijn knappe lieve TALKIES girlzzz bij de #TOVxCHANTALBLES launch! # New outfit-post on the blog! Link in BIO or download the free Style My Day App in the APP !  # Vandaag ben ik samen met mijn lieve vriendin @leontineborsato aan het personal shoppen in Antwerpen voor het nieuwste nummer van Talkies Magazine (en ook voor de gezelligheid natuurlijk!!)  # En als je in Antwerpen bent, MOET je natuurlijk lunchen bij Het Gebaar! En dat doen wij dus ook! Proost!