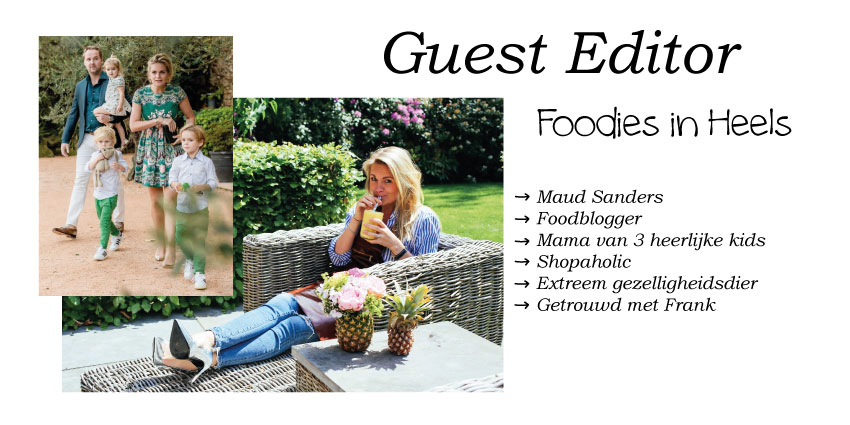 Deze foodie gaat op vakantie en neemt mee: kookboeken!!
Zo blij dat we dit keer met de auto gaan, zodat ik lekker veel kan meenemen. Want ja: ik wil niet hoeven kiezen tussen mijn schoenen en mijn boeken natuurlijk! Maar goed, ik ben dus even op kookboekenjacht gegaan en heb weer wat pareltjes gevonden, benieuwd welke? Kijk mee!
ON THE GO
Na twee succesvolle kookboeken, komt de culinaire zus van Doutze met een super cute: on the go boek vol recepten die fijn zijn om mee te nemen. HOE handig! Zoals we van haar gewend zijn allemaal te lekker en heel gezond. Na even gebladerd te hebben ga ik binnenkort zeker een keer de: Summer Quiche maken, ziet er heerlijk uit.
POWERSNACKS
OK, ik ben dus gek op gezonde snacks. Wie de Foodies In Shape actie heeft gevolgd weet dit zeker: ik eet drie gezonde snacks op een dag. Ik ben dus altijd op zoek naar leuke recepten. In het boek Powersnacks staan echt hele leuke!
HET BOEK VAN JET
Wat een leuk boek is dit, ik kreeg het binnen, ben erin gaan bladeren en wilde eigenlijk meteen doorlezen. Maar ik bewaar het heerlijk voor op mijn strandbedje. Originele gerechten, mooie foto's, het boek ziet er gelikt uit, ik heb er zin in!
80 RECEPTEN MET DE SPIRAALSNIJDER
Heb jij ook zo'n ding in de keuken liggen? Zo'n spirelli? En snij jij er alleen maar courgette mee als vervaging van de spaghetti in je Bolognese? Nou dan koop je dit boek en zie je wat je er allemaal nog meer mee kan doen! Ik ben vooral heel erg benieuwd naar de Marokkaanse Kalkoenburgers die ik zeker ga maken als ik terug kom van vakantie.
AVOCADO
Een van mijn favoriete foodbloggers is: fooddeco. De mooiste foto's maakt deze Colette, die een complete avocado crush heeft. Sinds deze week heeft ze een boek uit en wat een plaatje is het! Gewoon mooi om open te leggen op je keukentafel, waarschijnlijk ga je dan iedere dag AVOCADO eten. Ik zeg prima plan!
Alle boeken zijn beschikbaar bij bol.com
Volg me op mijn blog: Foodiesinheels.nl en natuurlijk op Facebook en Instagram