Vandaag was het een heerlijke dag, je zou natuurlijk meteen denken: een TOP dag voor een shoot, en dat was het natuurlijk ook, maar klagen deden we stiekem ook een beetje! Het viel niet mee om een hele dag model te staan onder de fel brandende zon, en een temperatuur van 31 graden, en dat NIET in bikini dus dat was soms niet echt een pretje! Maar zo leuk om te doen!
Vanmorgen eerst naar Eindhoven gereden om bij Marilot by Lotte de sets kleding op te halen ! Wat een fantastische winkel is dat en wat een stijl hebben die meiden daar! Helemaal mijn ding!
Daarna naar Oisterwijk gereden om samen met Mayke schoenen ( die de schoenen, tassen en sieraden verzorgde) op lokatie te gaan fotograferen. Vandaag werd ik bijgestaan door Maartje die de fotografie verzorgde en Melanie die voor mij de verschillende looks bijhield .
Eenmaal de grote vracht kleding naar binnen te hebben gesjouwd, was al snel duidelijk dat 9 looks niet in een uurtje gedaan zou zijn! Buiten was het natuurlijk schitterend weer , en zoals heel typisch in Oisterwijk , is iedereen ( maar dan ook iedereen ) op het terras te vinden! Dat leverde natuurlijk veel bekijks op tijdens het schieten van de plaatjes op verschillende coole locaties ! Vanwege de Sculptuur tentoonstelling waren er heel veel leuke plekken om de looks vast te leggen, en dat zullen jullie zeker weer terug gaan zien op de foto's die de komende weken voorbij gaan komen!
We hebben vandaag 9 looks vastgelegd en we kunnen wel zeggen dat het een geslaagde dag was! Met alle hitte en verkleedpartijen in de winkel, had ik ( bijna!) medelijden met al die modellen die dit voor de dagelijkse kost doen….ik ben compleet uitgeteld maar voldaan !!  Ik heb toen ik heeeel jong was modellenwerk gedaan, maar dat is zo lang geleden dat het toch in het begin wat onwennig was! Maar HOE leuk was het om alle creaties samen te stellen, en deze voor jullie vast te leggen! Een kijkje achter de schermen van Style My Day voor jullie, want ik ben trots op het resultaat en kan niet wachten om al deze waanzinnige looks met jullie te gaan delen op mijn website! Dus houd de site heel goed in de gaten want elke vrijdag post ik een nieuwe LOOK OF THE WEEK!
XL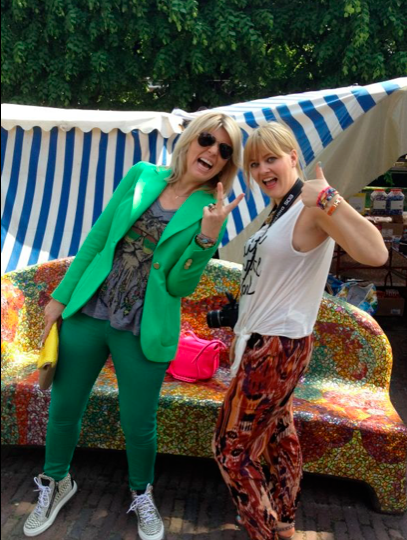 Met topper Maartje, mijn fotografe van deze dag !