Of ik het leuk vond om mijn eigen boots te komen samenstellen, die dan speciaal voor mij zouden worden gemaakt……
Dat was de vraag die Caroline Plasman van Tony Mora mij een paar weken geleden stelde….. Nou, je snapt wel dat ik daar natuurlijk geen nee tegen kon zeggen want heel eerlijk…..hoe cool zijn de boots van het Spaanse stoere laarzen  & riemenmerk wel niet!!
Tony Mora is een merk dat al bijna 100 jaar haar collecties op het Spaanse eiland Mallorca produceert. Het merk is vooral bekend om haar cowboyboots maar biedt ook heel veel andere modellen. Hoog, laag, met of zonder riempjes, stiksels, studs en verschillende kleuren. Je kunt het zo gek niet bedenken of Tony Mora heeft het in de collectie zitten! De beste vakmensen uit Mallorca doen meer dan 100 handelingen per paar laarzen om ervoor te zorgen dat ze helemaal perfect zijn!
En het allerleukste van het kwalitatief zeer hoogwaardige maar ook zeer fashionable merk is, dat de mogelijkheid bestaat, om je eigen laars samen te stellen! En dat is precies wat ik mocht doen afgelopen week! Ik mocht echt ALLES te kiezen: de hak (en hoogte daarvan), de hoogte van het laarsje, het model schacht en de breedte ervan, de neus van de laars, het soort leer, de kleur, het design etc.  Nou, ik ga jullie nog even in spanning laten over het resultaat maar ik kan je vast vertellen dat het echt een waaaaanzinnig ontwerp is geworden! Ik ben nu al helemaal blij en kan niet wachten "to take my Tony Mora by Style My Day – boots out for a walk in the city!" Keep you posted!  XL
Jaaa…deze vond ik wel heeeeeeel mooi zoals je ziet !! ( zou ik iets hebben gebruikt voor mijn ontwerp?)
Of deze misschien?
Wat een keuze….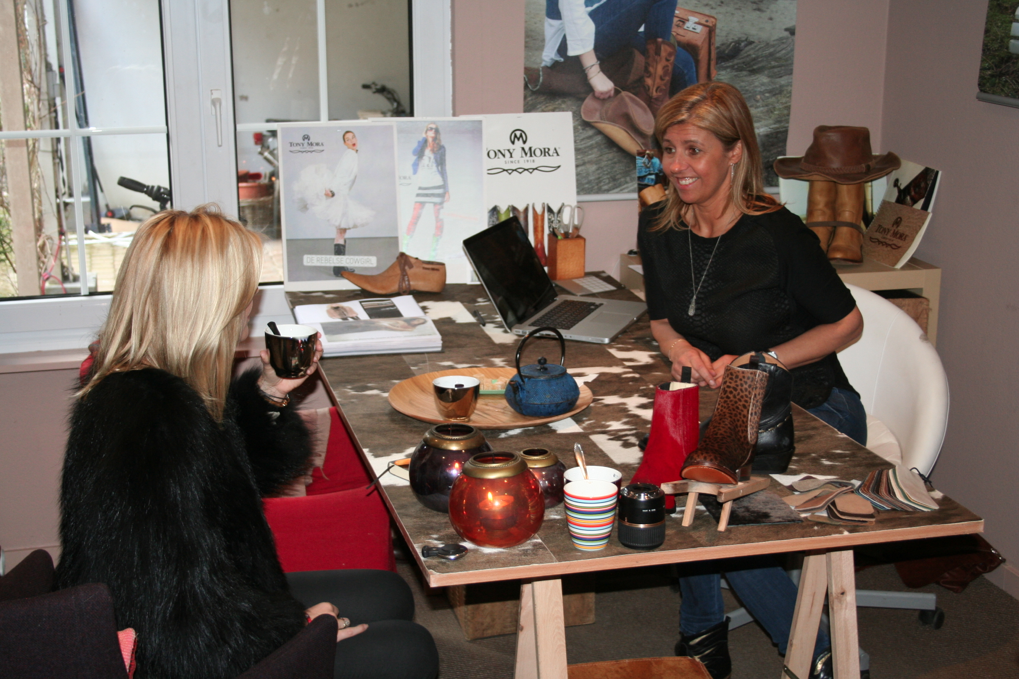 Nog even een lekker theetje met Caroline….