De lente dagen zijn weer aangebroken en we kunnen steeds langer genieten van het zonnetje! Tijdens deze lente dagen verruil je je winterkleding voor zomer items en zo kom je er íeder jaar weer achter dat je tóch nog wat items in je kast nog hebt. Tijd om wat leuke stukken toe te voegen, zodat je zomergarderobe compleet is. Vandaag hebben wij een aantal van die items op een rijtje gezet. Deze items zijn super stijlvol maar zitten daarnaast ook nog eens mega lekker, ook belangrijk! Ben je benieuwd naar onze favo's? Scroll dan snel even verder!
1. Lange jurken
Lange jurken zijn áltijd een goed idee! Het is mega stijlvol en het zit ook nog eens heerlijk lekker. Ook maakt het niet of je nou slank of wat voller bent. Een lange jurk staat áltijd. Overigens krijg ik vaak de vraag wat leuke items zijn om te shoppen voor vrouwen met een maatje meer, dit is dus zo'n item maar wil je nou nog meer inspiratie opdoen, check dan even deze trendy plussize winkelketen.
Bron: Pinterest
2. Lange rokken
Een lange rok is een elegant item dat past bij bijna iedere vrouw. Ben je wat langer dan is het leuk met sneakers, ben je wat kleiner, ga dan voor een schoen met een (kleine) hak. Draag het met een comfy t-shirt voor een comfortabele look en draag het met een blouse voor een wat chiquere look.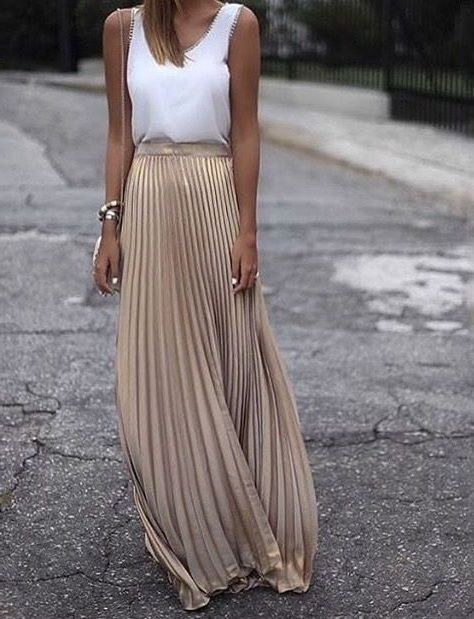 Bron: Pinterest
3. Witte sneakers
Een andere mega trend dit jaar zijn witte sneakers. Deze schoen is populairder dan ooit te voren en maakt iedere simpele outfit een stuk vrolijker en frisser. Het zit lekker en zorgt ervoor dat je er stylish maar niet té gestyled uitziet! Deze schoen past onder iedere look, lekker makkelijk dus :).
Bron: Pinterest