Goede basics zijn essentieel als je het meeste uit je kledingkast wil halen. Je kunt deze items eindeloos combineren en dat is wat het juist zo fijn maakt. Om jullie te inspireren hebben wij de 12 beste basics op een rijtje gezet. Benieuwd? Scroll dan snel verder.
1. Manteljas
De manteljas is een eeuwige klassieker en blijft elk jaar terug komen. Het fijne aan deze jas is dat hij eindeloos te combineren is en een chique uitstraling heeft.
Bron: Pinterest

2. Mom jeans grijs
Nu we langzamerhand afscheid genomen hebben van de skinny jeans, heeft de mom jeans z'n opmars gemaakt. De broek zit boven strak aangesloten en loopt wat wijder uit. Wij snappen wel waarom deze broek steeds populairder wordt, want hij zit heerlijk!
Bron: Pinterest

3. Witte basic blouse
Met deze klassieker kun je nooit de mist mee in gaan. De witte basic blouse is een echte klassieker en eindeloos te combineren.
Bron: Pinterest

4. Zwart jurkje
The little black dress is een échte klassieker. De jurk is perfect voor de herfst om te combineren met een paar mooie boots. Het zwarte jurkje heb je in allerlei verschillende soorten en maten, voor iedereen wat wils dus!
Bron: Instagram

5. Wit basic t-shirt
Een item dat je eindeloos kunt combineren is het basic witte t-shirt. Combineer dit t-shirt met een mooie blazer of met een leer jack als je wilt gaan voor een stoerdere look.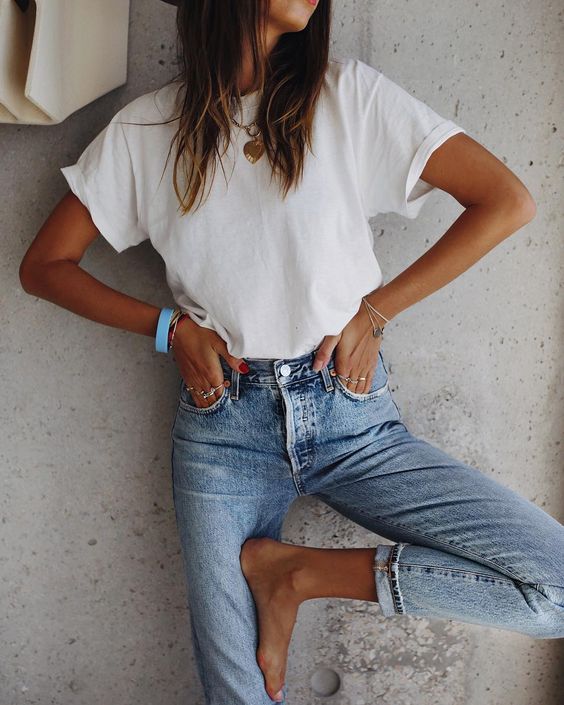 Bron: Instagram

6. Zwarte pantalon
Een zwarte pantalon past eigenlijk wel bij elke outfit. Je kunt de broek combineren met andere kleuren maar om de look rustig te houden kies je voor aardetinten. Een echte staple piece!
Bron: Instagram

7. Gestreepte trui
Deze trui is onze favoriete. Het is een echte klassieker en heeft een mooie en chique uitstraling, daarnaast kun je dit item goed combineren omdat de trui vaak neutrale kleuren heeft.
Bron: Instagram

8. Zwarte blazer
Dit is misschien wel de klassieker onder de basics. De zwarte blazer is een must-have in elke fashionista haar kast! De blazer komt in verschillende modellen en heeft een klassieke look!
Bron: Instagram

9. Beige pantalon
Een pantalon is een losvallende broek met een klassieke uitstraling. De pantalon heeft een chique look en is perfect voor tijdens de herfstdagen.
Bron: Pinterest

10. Witte sneakers
Witte sneakers zijn bijna met elke outfit wel te combineren en daarom kan dit item niet ontbreken op onze favoriete basics lijst.
Bron: Pinterest

11. Trenchcoat
Elke herfst zien we deze jas weer terugkomen. Het fijne is dat de trenchcoat in vele soorten en maten komt en er daarom wel voor iedereen een model tussen zit.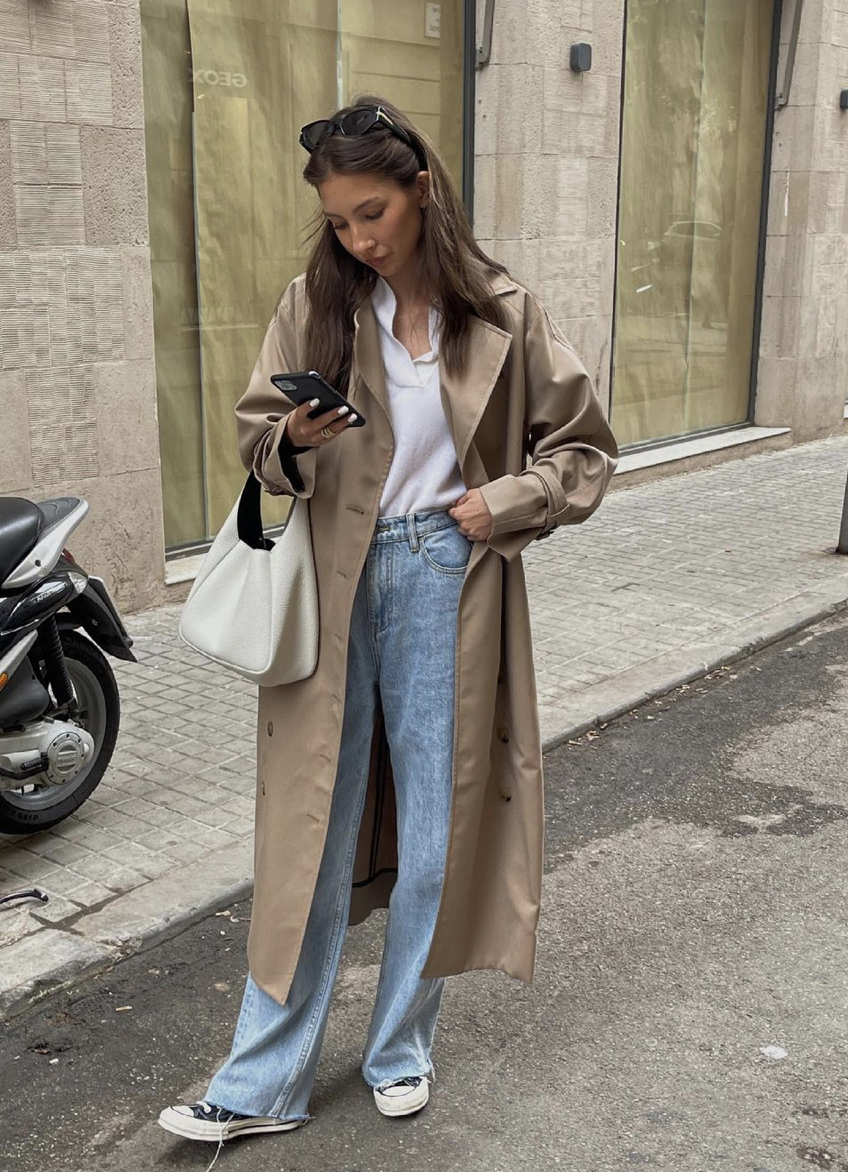 Bron: Instagram

12. Mom jeans wit
Net als de grijze mom jeans is de witte broek ook een musthave. Het fijne van dit items is dat hij super comfortabel is en ook nog eens mooi afkleed.
Bron: Pinterest